Berbagi Pengalaman Membangun Startup di DigiTalk Vol. 10
Beberapa tahun terakhir, pertumbuhan startup di Indonesia sangat pesat. Hal ini dapat dilihat dari jumlahnya yang mencapai lebih dari 1.500 startup. Seiring berjalannya waktu, akan semakin banyak pengusaha yang tertarik untuk mendirikan startup. Sayangnya, meskipun mendirikan startup sangat mudah dilakukan, menjalankan dan membesarkannya adalah urusan lain.
Menurut sebuah penelitian, 70% startup gagal kurang dari dua tahun sejak mendapatkan pendanaan pertama. Meskipun memang banyak startup yang pada akhirnya harus gulung tikar, namun tidak sedikit juga yang justru mampu menjadi perusahaan besar. Semua bergantung pada sebesar apa jerih payah dan usaha yang dilakukan.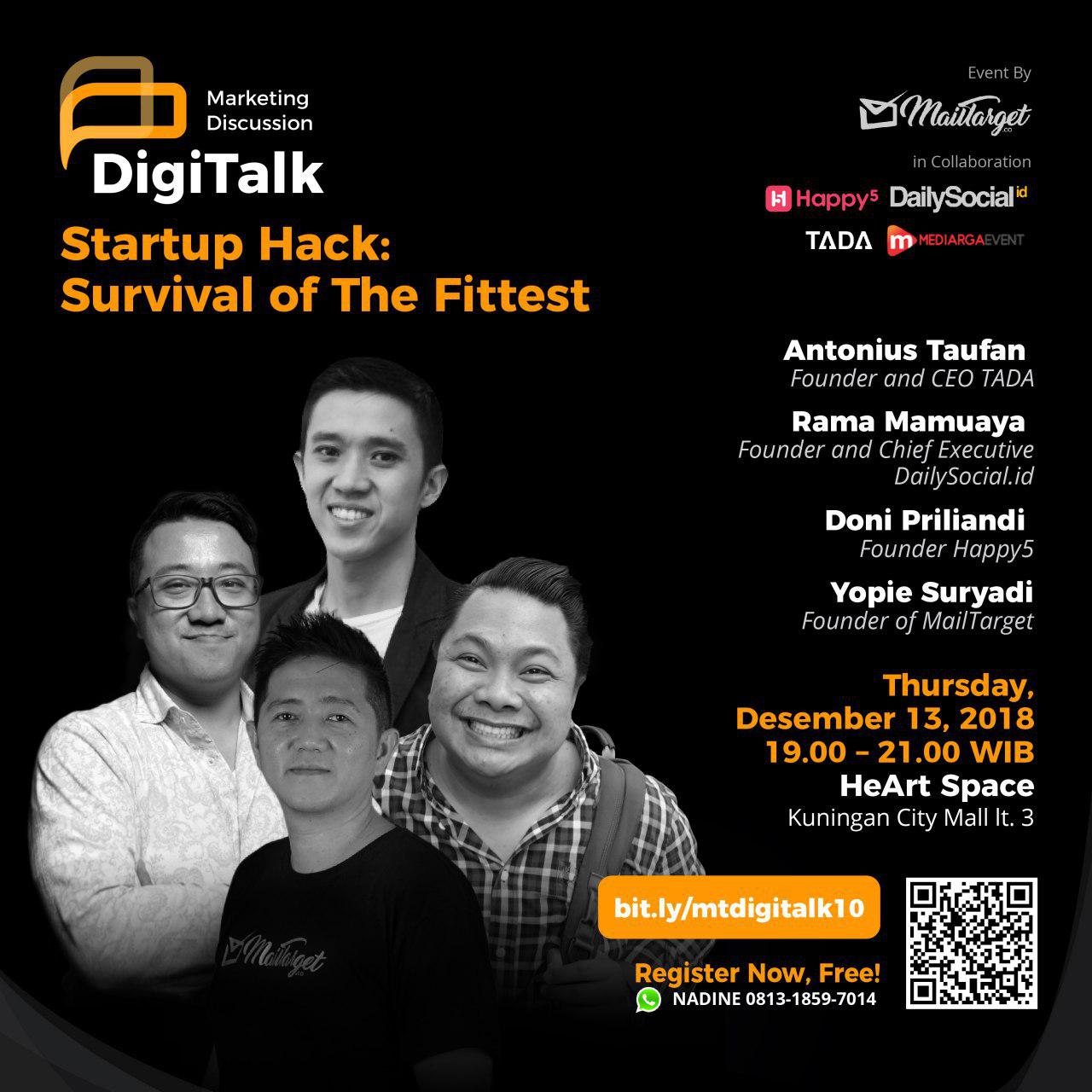 Menutup tahun 2018, MailTarget kembali menghadirkan DigiTalk Vol. 10 dengan tema "Startup Hack: Survival of The Fittest". Kali ini kami mengundang 4 startup founders yang kompeten dibidangnya masing-masing dengan banyaknya pengalaman asam manis dalam membesarkan startup. Mereka akan hadir dan sharing semua pengalaman selama membangun startup, strategi growth, pivot serta berbagai macam tantangan yang dihadapi sebagai founder.
Keempat startup founders tersebut adalah Antonius Taufan (Founder and CEO TADA), Rama Mamuaya (Founder and Chief Executive DailySocial.id), Doni Priliandi (Founder Happy5), dan Yopie Suryadi (Founder MailTarget) selaku pembicara sekaligus moderator event.
Event DigiTalk Vol. 10 akan berlangsung pada:
Kamis, 03 Desember 2018
19.00 – 21.00 WIB
Di : HeArt Space, Kuningan City Mall Lt. 3.
Ada yang berbeda antara event DigiTalk kali ini dengan event-event sebelumnya. MailTarget DigiTalk Vol. 10 akan kami kemas dalam bentuk panel diskusi dan sharing bergizi antara peserta dengan pembicara. Jadi tunggu apa lagi, daftar sekarang juga. Tempat terbatas.
Mau tahu informasi selanjutnya? Subscribe newsletter kami di sini dan channel telegram MailTarget di sini. Baca juga artikel lainnya di blog MailTarget.
(I.A)
---