DigiTalk Vol. 16: "Ready for Holiday Season: Best Strategy for Your Business"
Tidak terasa, kita sudah sampai pada penghujung tahun 2019. Rekan Marketer, strategi apa saja sepanjang 2019 ini yang telah Anda jalankan? Bagaimana progresnya? Apakah Anda sudah puas dengan strategi yang saat ini Anda terapkan? Menjelang akhir tahun, berbagai bisnis berlomba untuk menawarkan berbagai promosi kepada pelanggannya dengan berbagai strategi. Nah, apakah Anda termasuk dalam salah satu bisnis yang tengah gencar melakukan promosi tersebut?
Membangun strategi bisnis bukan hanya tentang bagaimana memaksimalkan strategi bisnis Anda, tetapi juga tentang bagaimana memaksimalkan tools yang Anda miliki untuk strategi marketing. Sejauh ini, tools apa saja yang sudah Anda gunakan?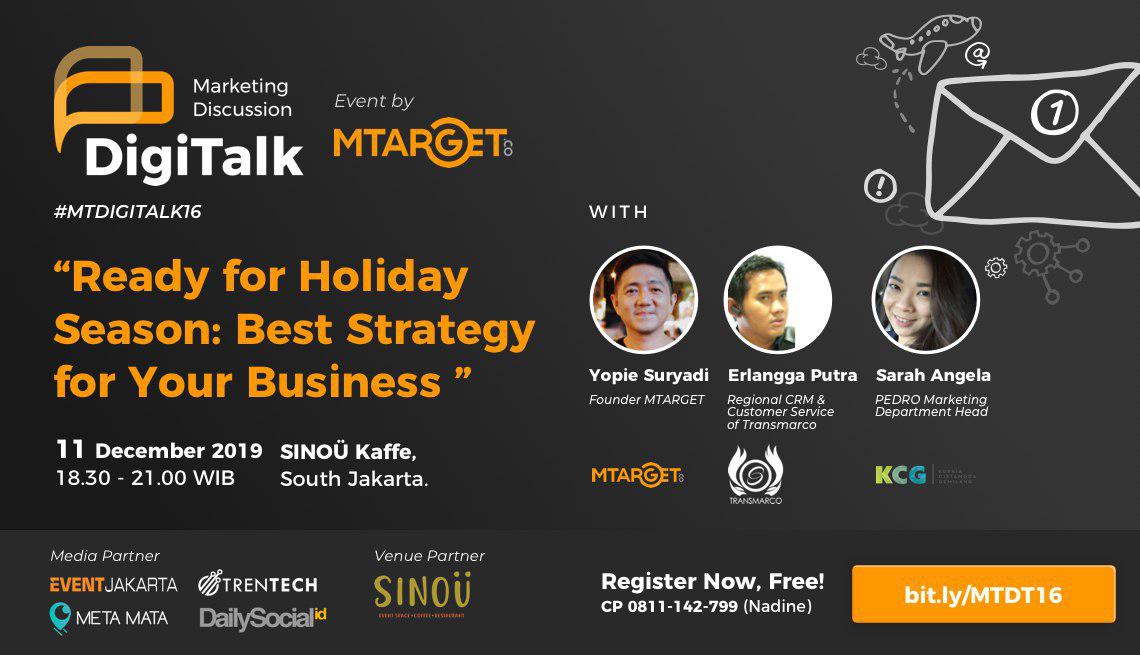 Di bulan penghujung tahun 2019 ini, MTARGET DigiTalk kembali digelar di Jakarta dengan tema "Ready for Holiday Season: Best Strategy for Your Business" dan akan mengundang pembicara yang telah berpengalaman di bidangnya, diantaranya ada Yopie Suryadi sebagai Founder MTARGET dan Erlangga Putra sebagai Regional CRM & Customer Service of Transmarco, dan Sarah Angela sebagai PEDRO Marketing Department Head.
Event DigiTalk Vol. 16 akan berlangsung pada:
Hari dan tanggal: Rabu, 11 Desember 2019
Pukul: 18.30 – 21.00
Lokasi: SINOÜ Kaffe, Jl. Panglima Polim V No.26, RT.5/RW.7, Melawai, Kec. Kby. Baru, Kota Jakarta Selatan, Daerah Khusus Ibukota Jakarta 12160.
Para pembicara akan membahas tentang bagaimana memaksimalkan strategi bisnis ketika masa liburan, diantaranya bagaimana mendapatkan hasil maksimal pada saat musim liburan, tips and trick serta strategi untuk marketing selama musim liburan, dan bagaimana memaksimalkan tools yang dimiliki.
Jangan sampai ketinggalan, karena dengan pembicara yang berpengalaman, Anda akan mendapatkan ilmu-ilmu yang bermanfaat dan dapat juga terapkan pada bisnis Anda. Segera catat tanggalnya dan daftarkan diri Anda.
Ingin mendapatkan informasi lebih lengkap tentang event DigiTalk dan lainnya? Subscribe newsletter kami di sini untuk mendapatkan tips & perkembangan seputar email marketing gratis. Baca juga artikel-artikel lain di blog MTARGET dan jangan lupa bergabung di channel Telegram MTARGET untuk informasi lainnya seputar MTARGET dan berita-berita terbaru.
(J.R)
---