Event DigiTalk Vol 2 : Email Marketing vs Facebook Marketing
Jika Anda merupakan seorang marketer, tentu Anda akan menanyakan pada diri Anda sendiri tentang marketing channels manakah yang kiranya paling baik untuk bisnis Anda.
Saat ini para marketer sudah mulai beramai-ramai menggunakan email marketing sebagai marketing channels untuk mempromosikan bisnis mereka. Namun, tidak sedikit yang enggan menggunakan email marketing dan lebih memilih Facebook Marketing.
Sebenarnya mana yang lebih baik? Email marketing atau Facebook Marketing? Atau justru keduanya dapat berjalan bersama?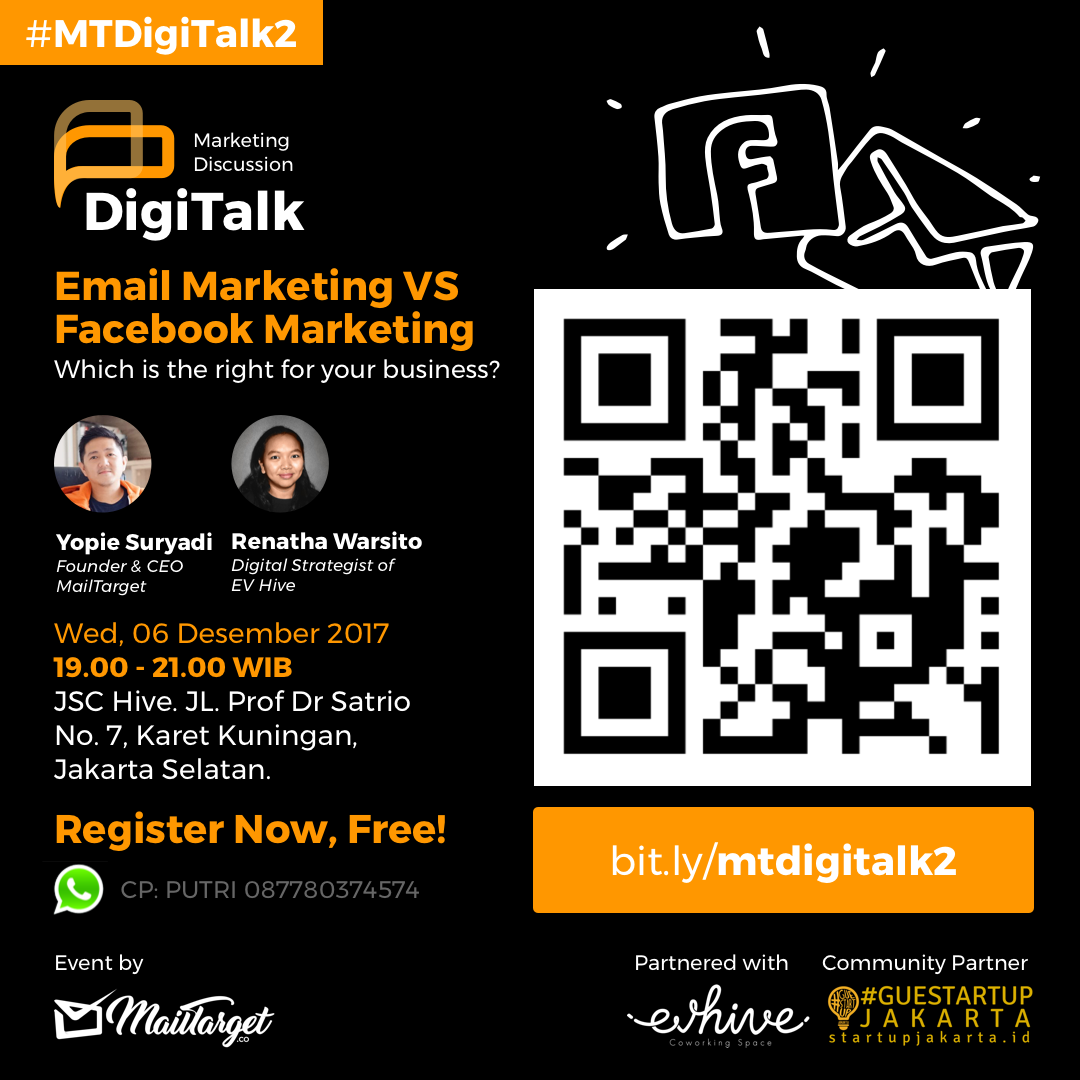 Semuanya akan dibahas dalam event DigiTalk vol 2 : Email Marketing vs Facebook Marketing, Which is The Right for Your Business?
Acara ini akan menghadirkan Yopie Suryadi selaku Founder and CEO of MailTarget, serta Renatha Warsito selaku Digital Strategist of Ev Hive.
Event ini akan diadakan pada:
Waktu :
Rabu, 6 Desember 2017
19.00 – 21.00 WIB
Tempat :
JSC Hive
JL. Prof Dr Satrio No 7, Karet Kuningan, Jakarta Selatan
Jangan sampai kelewatan. Daftar sekarang, tempat terbatas. Acara ini tidak dipungut biaya apapun.
Mau tahu informasi selanjutnya? Subscribe newsletter kami disini dan channel telegram MailTarget disini. Baca artikel lainnya di blog MailTarget.
---
MailTarget.co adalah sebuah perusahaan SaaS (software as a service) yang membuat email system dengan teknologi artificial intelligence.