Interesting Concept: Wedding Invitation with Email Automation
Have you ever imagined before to send a wedding invitation via email? Or maybe are you ever get a wedding invitation via email? Maybe if you are from the baby boomers generation would think this is not polite. Conversely, those from generation millennials or generation Z will ask, "is there still someone who opens an email?" Or, "why not use Facebook Event as is commonly done?"
But Joh Juda, our Customer Success in MTARGET, actually has unique and different experience when he sends his wedding invitation via email marketing. The wedding which was held on March 16, 2018, with a limited time, which is only 2 weeks to distribute invitations, actually has an attendance rate of 92%.
This is the results of our interview with Mr. Joh.
MT (MTARGET): Why did Mr. Joh choose to send a wedding invitation through Email Marketing?
Mr. Joh: The challenge in sending invitations, whether it's a wedding or other event, generally there are 3. Is the invitation reaches the recipient's address or not, if it is read/opened or not, and ensures attendance/not. Based on what I see, this is what cannot be accommodated through conventional invitations. The first challenge of sending physical invitations is whether accepted or not, even if the time is unpredictable. We also have to make sure manually whether the invitation has been opened and invited guest will be present or not. In the end, the invitation will be discarded once the event is saved in the calendar.
If through e-mail marketing we can ensure that the invitation reaches, opens, until RSVP. On the other hand, inviting via email is far more privacy and formal than inviting via Facebook or Whatsapp.
MT: How do you use mtarget.co to send a wedding invitation? What features do you use in the invitation?
Mr. Joh: Even though digital invitations are more practical, it is necessary to provide added value in the invitation email, so that when they get an invitation they receive it with special treatment (not just an invitation blasting). This is where we need to prepare content, especially exclusive content that they only get via email. For example, such as add to google calendar, share location via google map, update BTS (Behind The Scenes) stories from wedding preparations on the blog/landing page that is sent in the form of a newsletter.
There are at least 4 main features of the MTARGET that I use in wedding invitations:
Page: I use this page as a landing page, all information about marriage and wedding preparation is placed in landing page. Starting from counting down, pre-wedding photos, to blog posts. This really helps me who doesn't have the coding ability at all but wants to have a good website.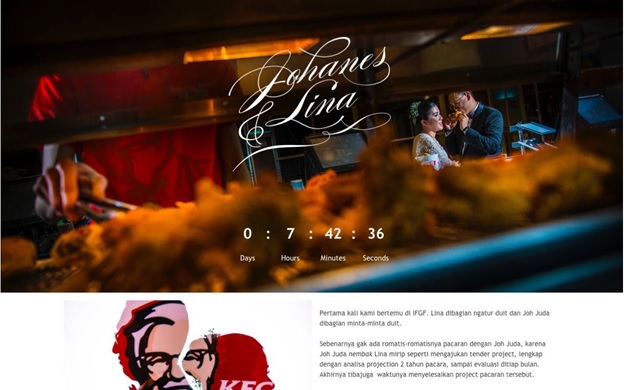 Joh Juda's Wedding Landing Page
Form: I use this feature to invite people who I don't know about their e-mail addresses, so they can fill themselves without writing errors.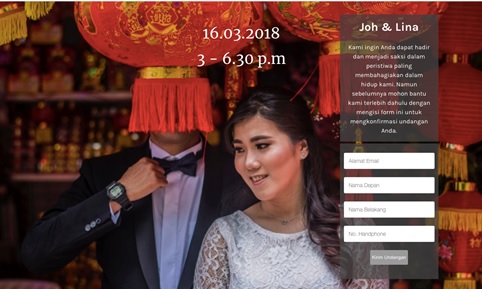 Joh Juda's Wedding Invitation Form
Email marketing: except to sending invitations, email marketing is also used as a newsletter and reminder on D-7 and D-1. This is the advantage of email marketing compared to inviting with other media, we can check who has received an email, who has opened an email, even anyone who has done RSVP. Besides that, I can arrange a scheduling delivery, so that emails can be sent at the right time without having to standby in front of the email dashboard.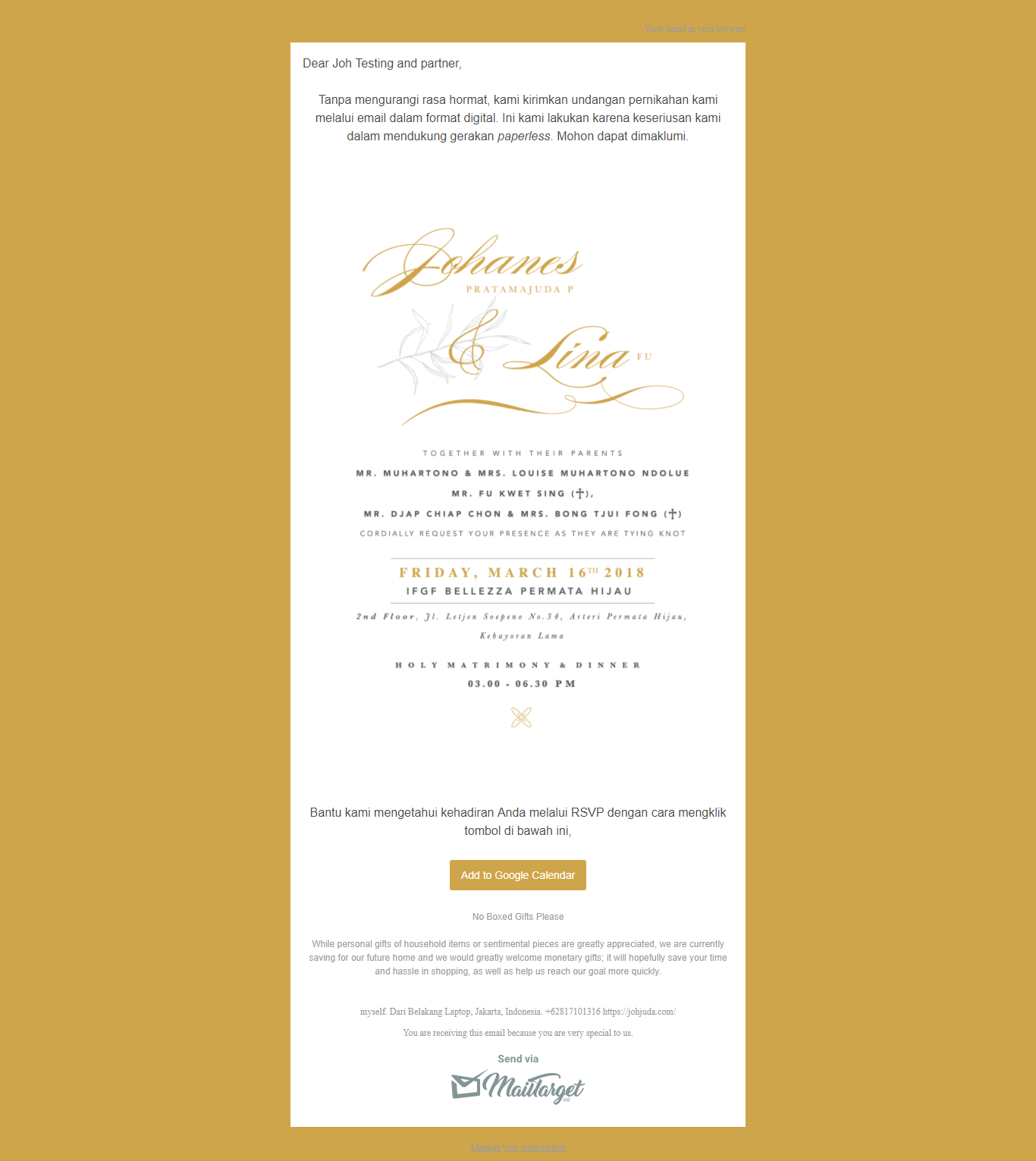 Joh Juda Wedding Invitation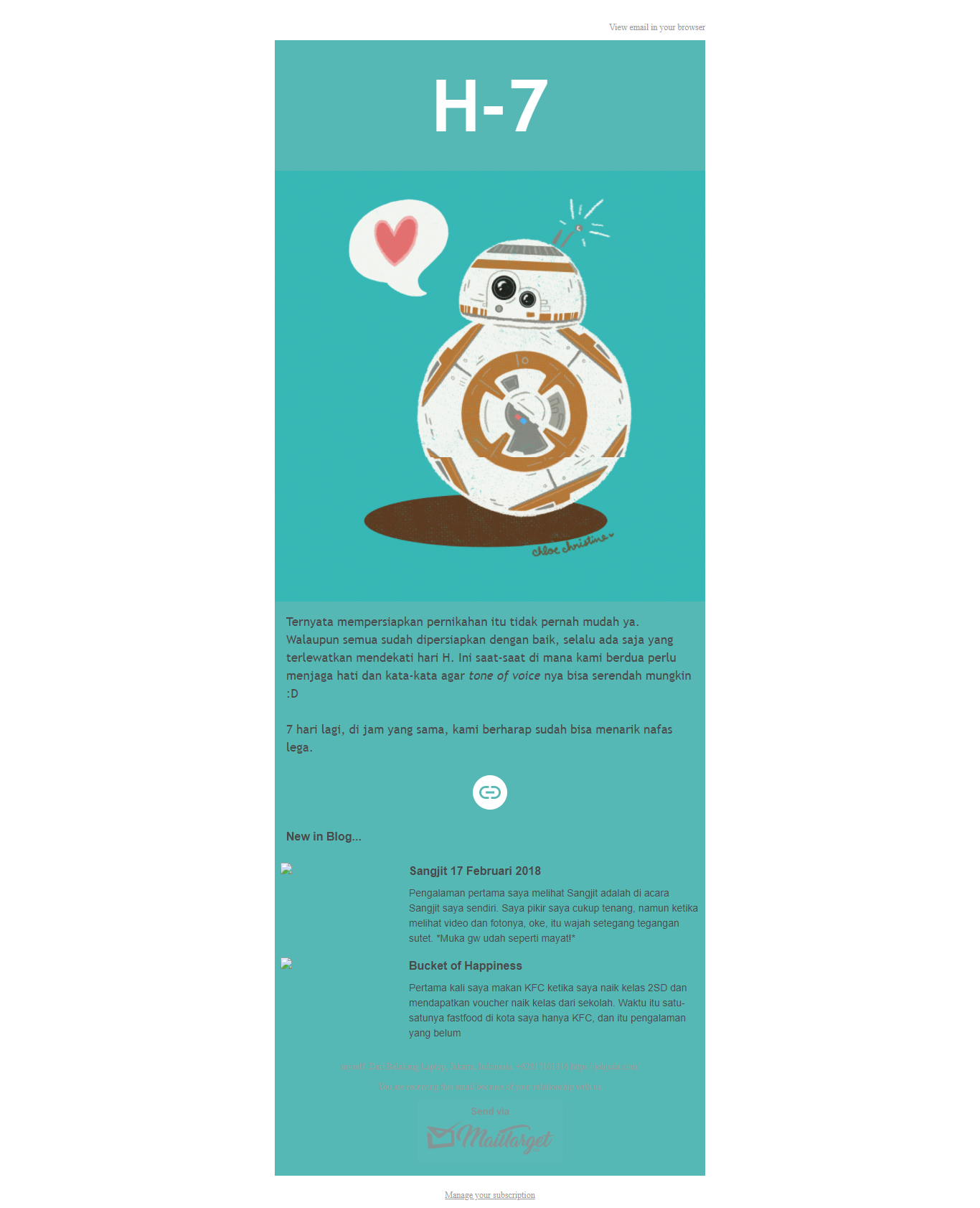 Joh Juda Wedding Countdown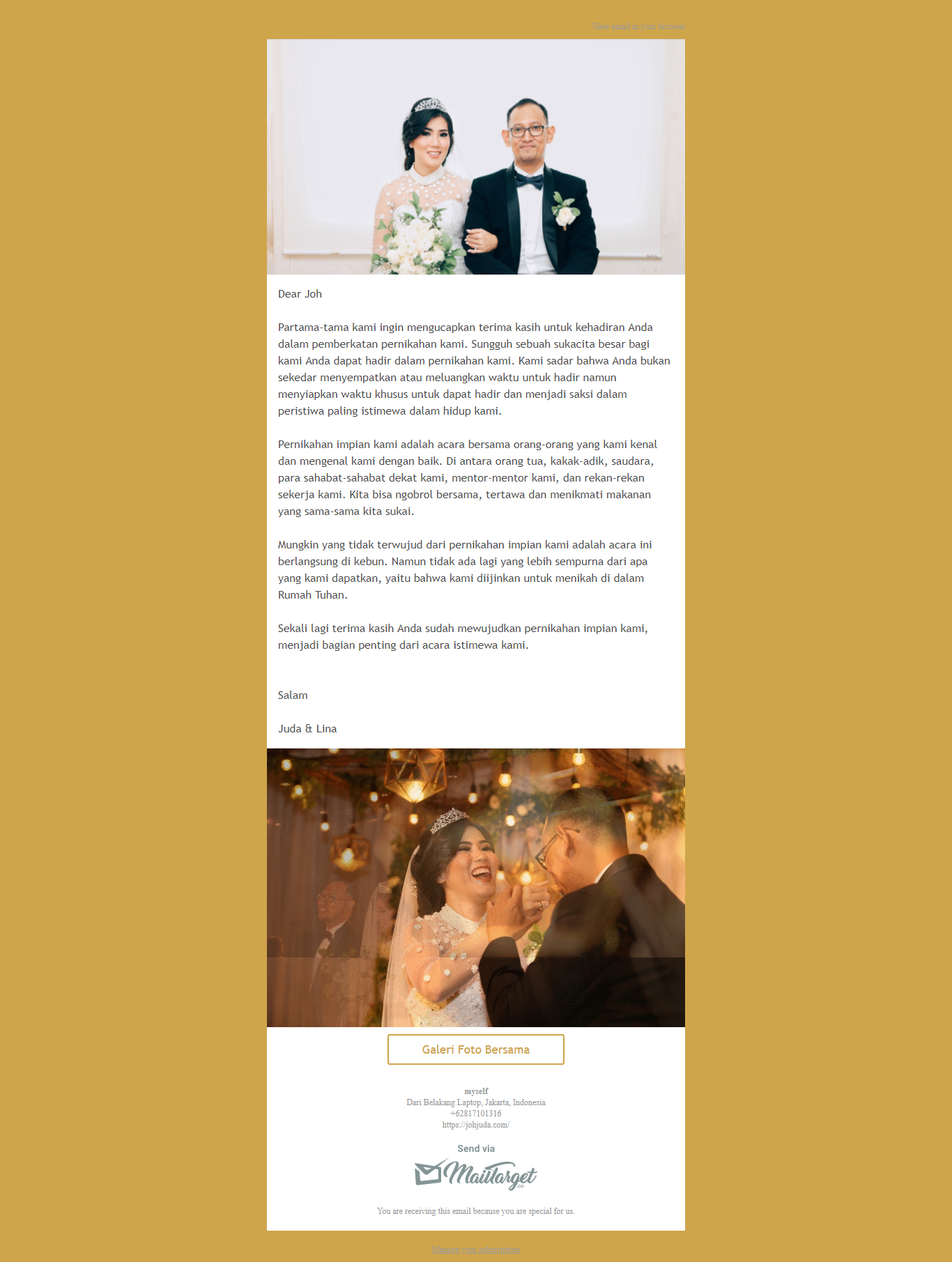 Joh Juda Greeting Wedding
Email automation: this feature is the most powerful and very helpful for me. Invitations are only a small part of marriage preparation which requires a lot of energy and energy, so this automation is like my assistant in sending email and content. Starting from an autoresponder when it's finished filling out the form, the autoresponder reminder when the email isn't opened until a certain time, until the autoresponder when the invitation is on RSVP.
MT: Then what are the results, Mr. Joh? What is the response of the invited guests?
Mr. Joh: actually the response was unexpected. We initially prepared print invitations for some old people in our family, but some of them requested that the invitation to be sent via email, because more practical, they also want to gain experience from content that can only be accepted when receiving invitations via email.
Many people are waiting to get an email because it means there is new content, there is a new story. In addition, for people who get an invitation to feel more special.
My wedding was on Friday and still at work, but invited guests came full house. Besides close family, all my invitations were sent via email. All RSVP invitations were invited via email, only 3 people did not come. Some testimonials that I might say that some of them expressed their gratitude for being invited and become part of this special event. Even after almost a month after the wedding, this event still being conversation how the MTARGET system can be applied in wedding invitations.
Maybe after this there will be so much people who register in MTARGET to make wedding invitations hahaha...
Subscribe our newsletter here to get free tips & updates about digital marketing. Read our articles in blog MTARGET and don't forget to join in Telegram MTARGET channel for other information about MTARGET and our new updates.
(H.A)
---