Kembangkan Kreasi Konten Anda di DigiTalk Vol. 5
Kita sudah tidak asing lagi mendengar ungkapan "content is the king". Fakta menyebutkan bahwa 75% perusahaan meningkatkan investasi dalam content marketing. Seluruh channel marketing mulai dari email, sosial media, bahkan iklan cetak membutuhkan konten. Hal ini menunjukan content marketing tidak dapat diabaikan dalam dunia marketing. Tapi sebenarnya, konten seperti apa yang dapat dikategorikan sebagai konten yang baik dan menarik?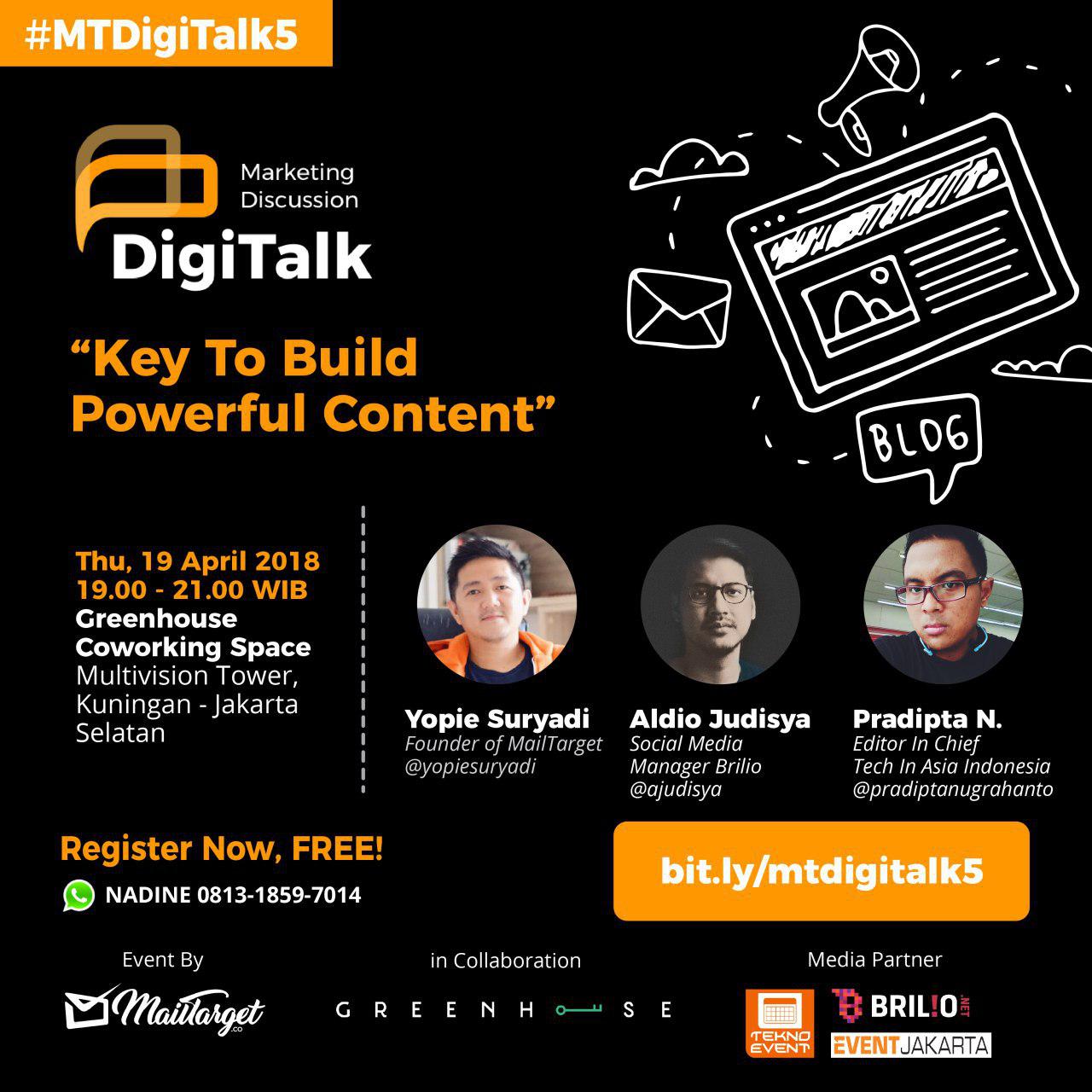 DigiTalk Vol. 5 mengambil tema "Key To Build Powerful Content" untuk menjawab persoalan tentang bagaimana membangun sebuah konten yang kuat dan efektif dalam melakukan marketing, serta sharing mengenai cara membuat konten yang baik dan benar. Tidak hanya itu, tiga pembicara dalam event ini yakni Yopie Suryadi (Founder of MailTarget), Aldio Judisya (Social Media Manager Brilio) dan Pradipta N. (Editor in Chief Tech in Asia) juga akan membagikan pengalaman mereka dalam membangun konten.
Acara ini diselenggarakan pada :
Waktu :
Kamis, 19 April 2018
19.00 – 21.00 WIB
Tempat :
Greenhouse Coworking Space. Multivision Tower 25th Floor,
Jl. Kuningan Mulia Lot 9B, RT.6/RW.1, Menteng Atas, RT.6/RW.1,
Menteng Atas, Menteng, Kota Jakarta Selatan, Daerah Khusus Ibukota
Jakarta 12980.
Daftar sekarang juga. Gratis! Peserta terbatas.
Mau tahu informasi selanjutnya? Subscribe newsletter kami di sini dan channel telegram MailTarget di sini untuk mendapatkan seputar MailTarget. Baca artikel lainnya di blog MailTarget.
---
MailTarget.co adalah sebuah perusahaan SaaS (software as a service) yang membuat email system dengan teknologi artificial intelligence.