The Rise of SaaS (Software as a Service) Startup in Indonesia
Software as a Service (SaaS) merupakan suatu perangkat lunak yang dapat digunakan langsung oleh user, tanpa perlu melakukan proses instalasi yang rumit. Keberadaan SaaS semakin banyak karena teknologi SaaS memungkinkan Anda untuk dapat tetap mengakses data dimanapun dengan menggunakan device apapun, hanya membutuhkan koneksi internet. Tidak heran, jika semakin banyak startup yang meluncurkan produk SaaS kepada masyarakat.
Bagaimana dengan keberadaan perusahaan SaaS di Indonesia? Temukan jawabannya dalam event DigiTalk vol.4 dari MailTarget dengan tema "The Rise of SaaS (Software as a Service) Startup in Indonesia". Event ini akan menghadirkan 3 pembicara, yaitu : Yopie Suryadi (Founder of MailTarget), Doni Priliandi (CEO Happy 5) dan Afia Efriati (CEO Gadjian).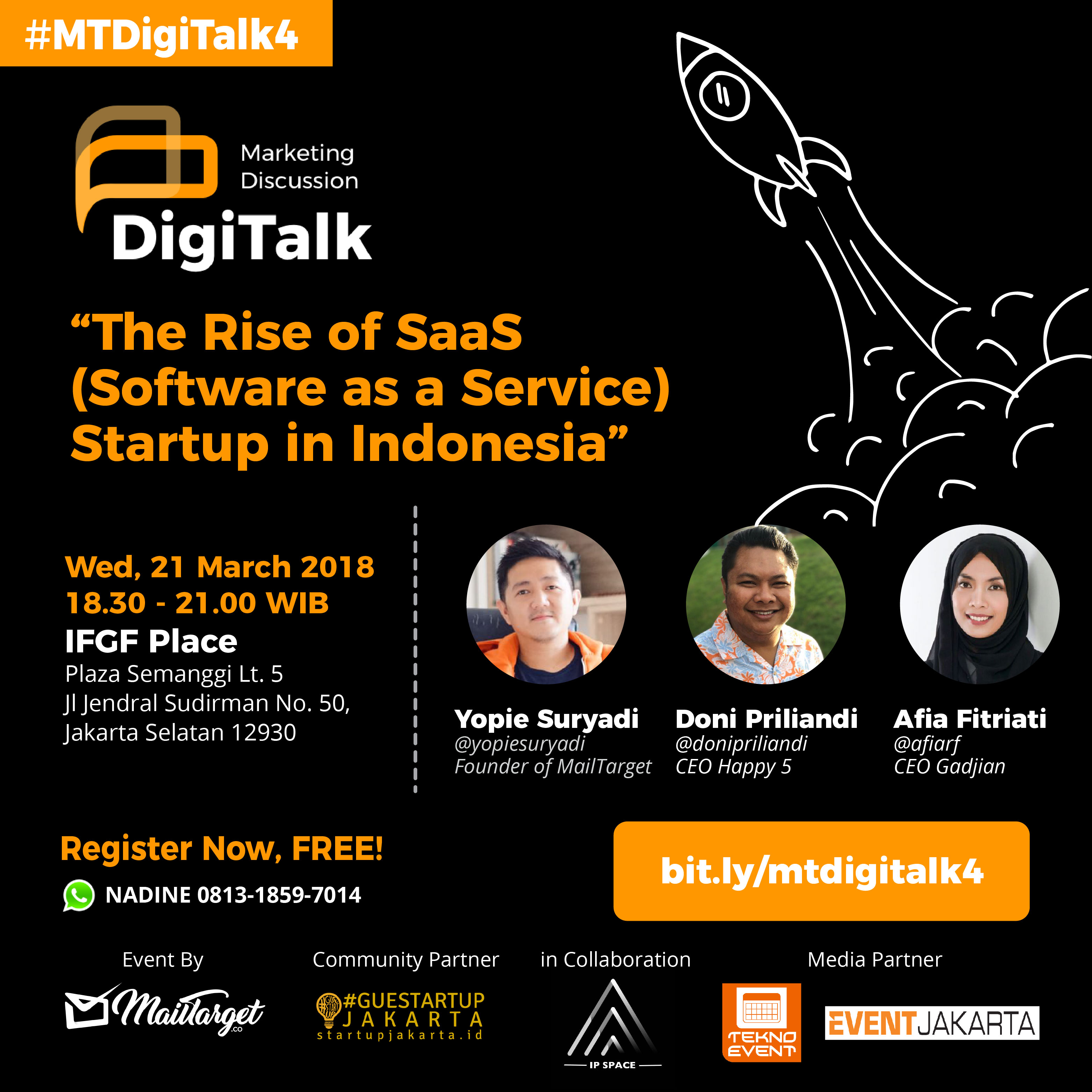 Anda akan memperoleh pengetahuan mengenai apa itu SaaS, cara membuat strategi marketing, target market dan pricing untuk perusahaan Saas, serta tips membangun startup Saas.
DigiTalk vol 4 akan diselenggarakan pada :
Waktu :
Rabu, 21 Maret 2018
18.30 – 21.00
Tempat :
IFGF Place. Plaza Semanggi lantai 5. Jalan Jendral Sudirman No.50, RT.1/RW.4, Karet Semanggi, Kota Jakarta Selatan, Daerah Khusus Ibukota Jakarta 12930
Daftar sekarang. Jangan sampai ketinggalan. Peserta terbatas.
CP: Nadine
---
MailTarget.co adalah sebuah perusahaan SaaS (software as a service) yang membuat email system dengan teknologi artificial intelligence.