DigiTalk Webinar 17 "Dialogue on Reviving The Tourism & Hospitality Business"
Rekan Marketer, seperti yang kita ketahui, ketika pandemi mulai mewabah di Indonesia, hampir semua sektor bisnis mengalami krisis, terutama industri yang berada di sektor pariwisata dan perhotelan. Dampak pandemi pada industri ini tidak main-main, tak sedikit bisnis pariwisata dan perhotelan yang saat ini sedang berjuang untuk kembali bangkit, ada pula yang masih mengalami krisis dan bahkan gulung tikar, mengingat saat ini sudah memasuki 1 tahun pandemi di Indonesia.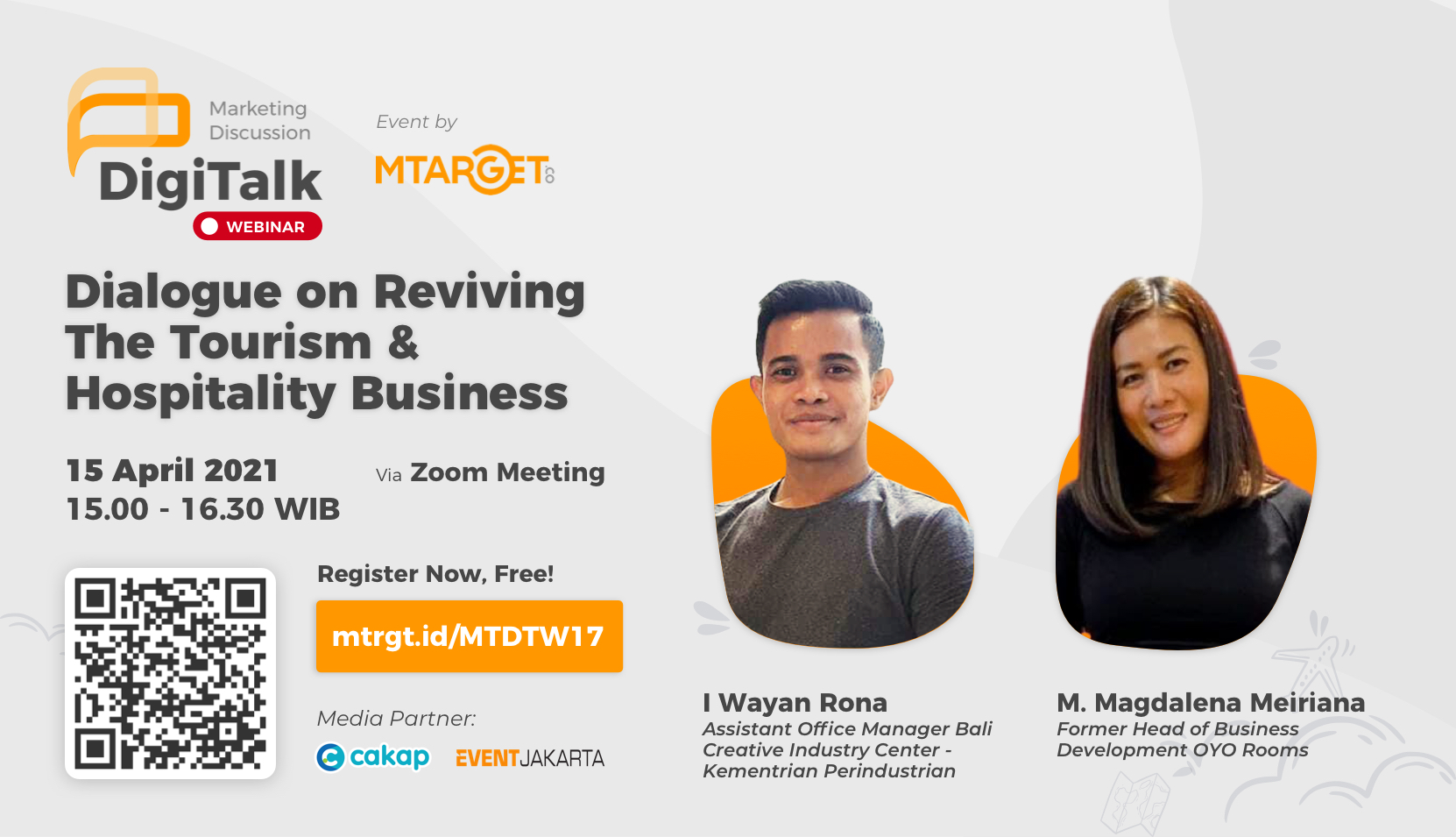 Mengingat hal tersebut, buat kamu yang saat ini bekerja di industri pariwisata dan perhotelan, MTARGET hadir menyediakan webinar khusus yang akan membahas bagaimana market update dalam industri pariwisata & perhotelan, strategi untuk memulai kembali bisnis pariwisata & perhotelan 2021, dan persiapan pertumbuhan traffic untuk musim liburan pertama 2021, bersama Magdalena Meiriana (Former Head of Business Development OYO Rooms) dan I Wayan Rona (Assistant Office Manager Bali Creative Industry Center - Kementrian Perindustrian)
Segera daftarkan diri kamu dan dapatkan insight-nya untuk kebutuhan bisnis melalui tombol di atas, atau melalui mtrgt.id/MTDTW17. Event ini dilaksanakan pada Kamis, 15 April 2021, pukul 15.00-16.30 melalui Zoom Virtual Meeting. Segera daftar sekarang. Gratis!
Dapatkan info lebih lengkap terkait event kami atau Ingin mendapatkan tips dan trik menarik seputar digital marketing? Kunjungi kami di blog.mtarget.co. atau ingin mencoba semua fitur digital marketing MTARGET, segera daftarkan diri melalui mtarget.co, kamu juga bisa subscribe newsletter kami di sini dan jangan lupa bergabung di channel Telegram MTARGET untuk informasi lainnya seputar MTARGET dan berita-berita terbaru.
(J.R)
---