DigiTalk Webinar 22 "The ROI of Personalized Marketing"
Dalam hal Return of Investment (ROI), Direct Marketing Association (DMA) menemukan bahwa email marketing memberikan return $40 untuk setiap $1 yang dibelanjakan. Tidak ada channel marketing lain yang berhasil mendekati angka fantastis tersebut. Meskipun email telah ada sejak awal 1970-an, tidak ada tanda-tanda bahwa email tidak efektif lagi digunakan, terutama dalam B2B marketing. Karena dalam strategi B2B Marketing, email merupakan channel yang paling banyak digunakan dan terbukti efektif untuk meningkatkan penjualan dibandingkan dengan channel lainnya.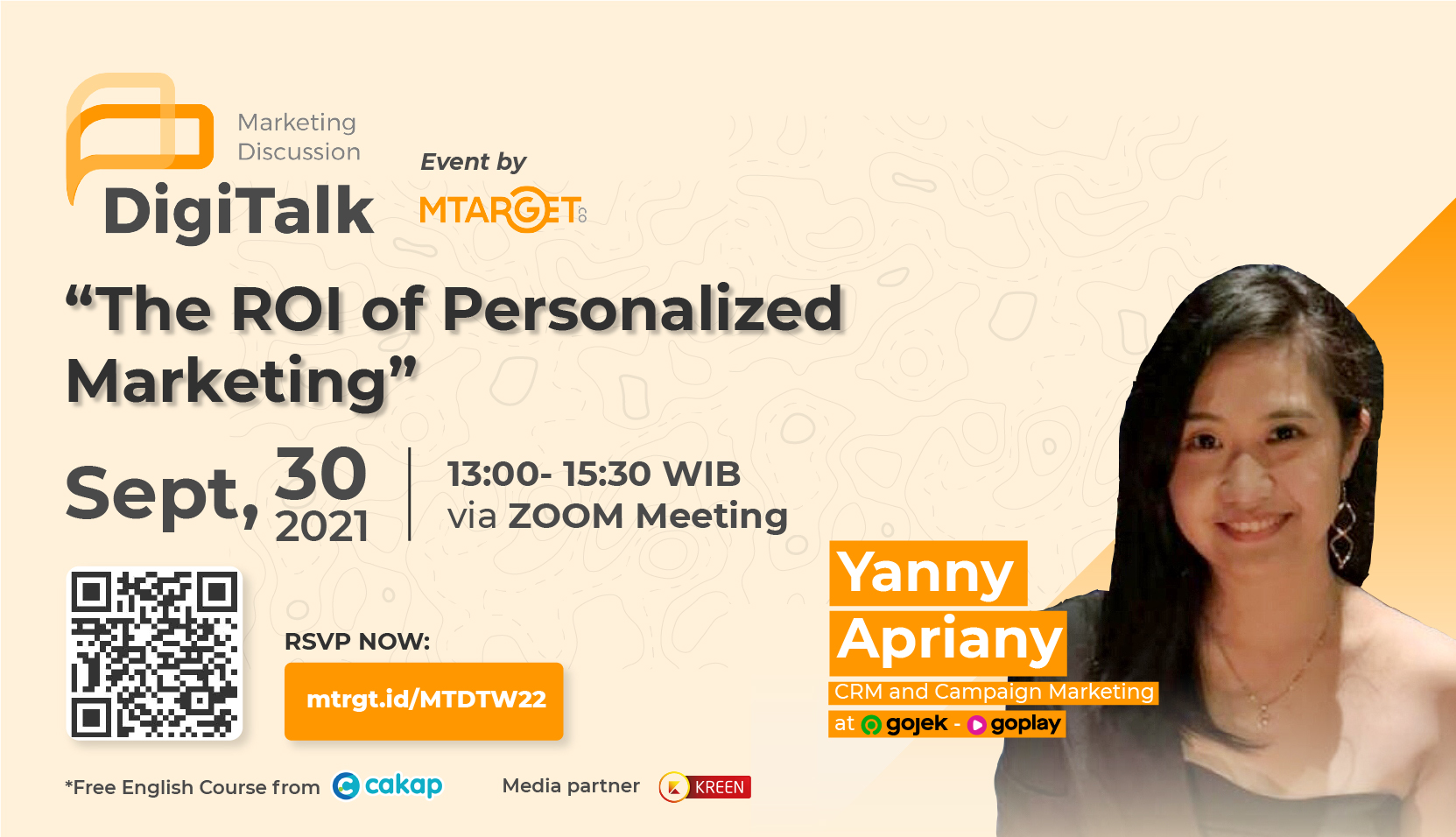 Dan faktanya, 87% B2B marketer menggunakan email marketing untuk men-generate leads baru, sementara 31% dari B2B marketer menyatakan bahwa email marketing adalah channel yang memberikan dampak terbesar pada peningkatan revenue. Mengingat betapa pentingnya email marketing untuk B2B brand dari segala bentuk dan ukuran, kami ingin memberikan Anda gambaran bagaimana kekuatan email marketing bisa mendobrak ROI hingga 3800% jika dilakukan dengan segmentasi dan personalisasi yang maksimal.
Melalui MTARGET DigiTalk Vol. 22 "The ROI of Personalized Marketing" kami akan membahas tentang bagaimana email dapat meningkatkan ROI marketing hingga lebih dari 3800%, mulai dari bagaimana cara memaksimalkan segmentasi dan personalisasi, best practice campaign email marketing, dan bagaimana menghitung performa campaign email marketing sesuai dengan industri Anda.
Segera daftarkan diri Anda dan dapatkan insightnya untuk kebutuhan bisnis Anda melalui tombol di atas, atau melalui mtrgt.id/MTDTW22. Webinar ini akan diselenggarakan pada Kamis, 30 September 2021 pukul 13.00-15.30 WIB melalui Zoom Meeting.
Ingin mendapatkan tips dan trik menarik seputar digital marketing? Kunjungi kami di blog.mtarget.co. atau ingin mencoba semua fitur digital marketing MTARGET, segera daftarkan diri Anda melalui mtarget.co Anda juga bisa subscribe newsletter kami di sini dan jangan lupa bergabung di channel Telegram MTARGET untuk informasi lainnya seputar MTARGET dan berita-berita terbaru.
(J.R)
---