DigiTalk Webinar Vol. 20 "Tren Social Marketing di Industri F&B"
Seperti yang kita ketahui bahwa saat ini bisnis kuliner sedang tren dan menurut data Kementerian Pariwisata dan Ekonomi Kreatif, kuliner menjadi sub sektor penyumbang PDB terbesar dari ekonomi kreatif.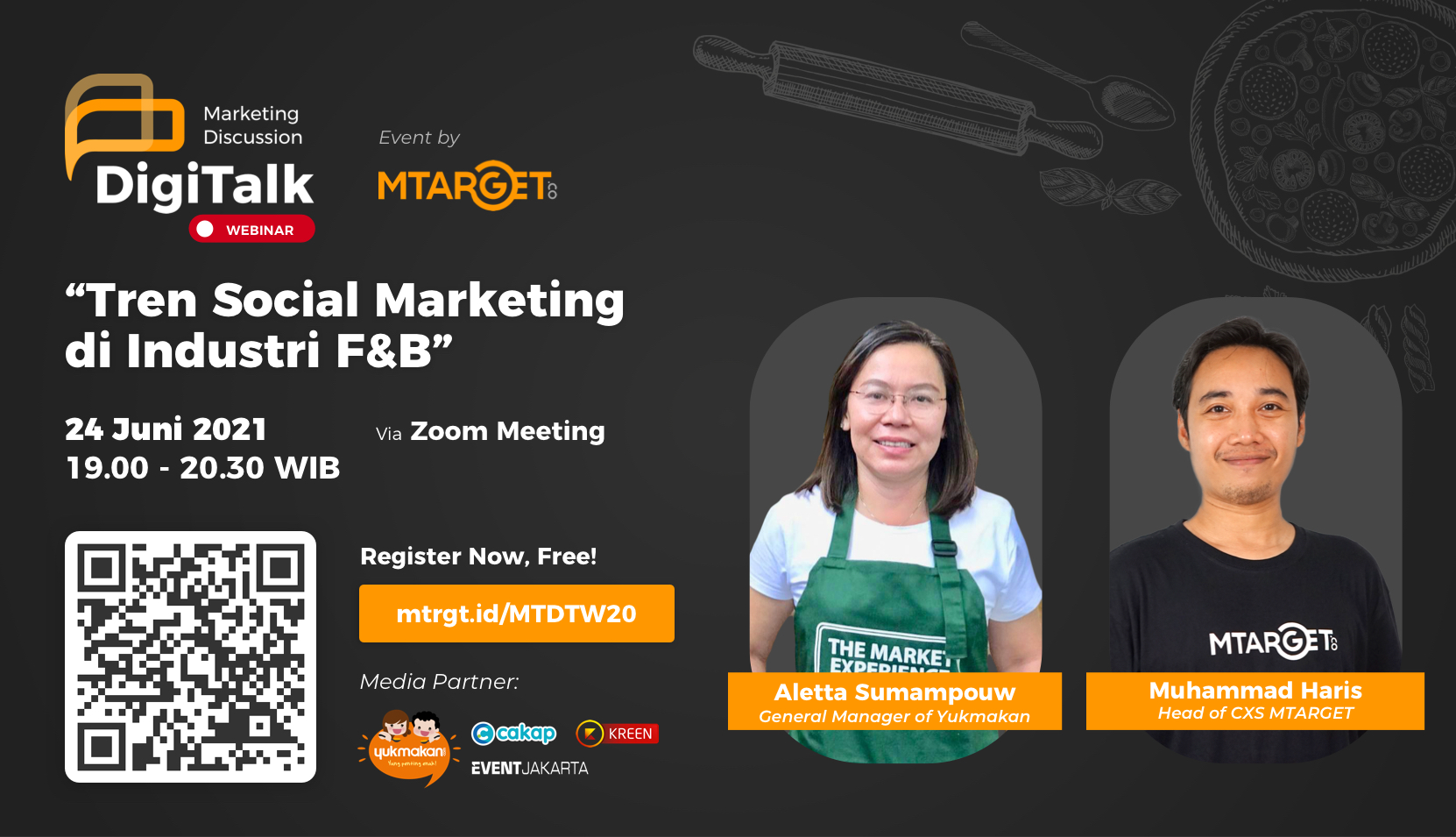 Hal ini tidak mengherankan, karena saat ini banyak sekali anak muda yang mulai terjun ke industri ini. Jika kamu salah satunya, sudah sampai tahap manakah kamu memaintain customer bisnismu? Bagaimana kamu membangun hubungan dengan mereka?
Nah, buat kamu yang saat ini baru mau memulai atau sedang memulai, yuk ketahui juga tren sosial marketing di industri bisnis F&B di MT Webinar ke 20 "Tren Digital Industri F&B". Bersama Aletta Sumampouw (General Manager of Yuk Makan) dan Muhammad Haris (Head of CXS MTARGET).
Di sini, kita akan sharing seputar update industri F&B post pandemic, perubahan perilaku konsumen, social marketing, dan bagaimana mengintegrasikan marketing offline dan online untuk F&B bisnis
Segera daftarkan diri kamu dan dapatkan insightnya untuk kebutuhan bisnis mu melalui tombol di atas, atau melalui bit.ly/MTDTW20. Webinar ini akan diselenggarakan pada Kamis, 24 Juni 2020 pukul 19.00-20.30 WIB melalui Zoom Meeting.
Dapatkan info lebih lengkap terkait event kami atau ingin mendapatkan tips dan trik menarik seputar digital marketing? Kunjungi kami di blog.mtarget.co. atau ingin mencoba semua fitur digital marketing MTARGET, segera daftarkan diri melalui mtarget.co, kamu juga bisa subscribe newsletter kami di sini dan jangan lupa bergabung di channel Telegram MTARGET untuk informasi lainnya seputar MTARGET dan berita-berita terbaru.
J.R
---